Wrist Corsage bracelets inspired by wearing a real flower wrist corsages as "jewelry" for only one night.
Fabricated from recycled tin containers. Plastic core. Brass pins. Every bracelet is one-of-a-kind.

1.5" - 2.75" Height
6.25" - 10.5" Diameter
0.5" - 2.5" Depth

These bracelets are available for purchase or exhibition.

Retail Prices listed
Wrist Corsage Bracelet, Orchids on Black Starry Background
IT is NOT designed to be worn, and is created as a dialog about the roles and symbolism of jewelry by Harriete Estel Berman #9.15.9.
Very large bracelet stands on its side for display.
Constructed from recycled tin cans as a commentary about our consumer society.
This bracelet is available for purchase or exhibition
Retail price: $714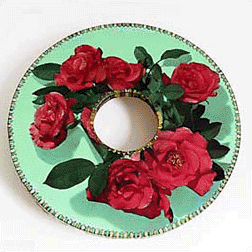 Large flower shape #8.14.9
Retail price: $1,210

A different but similar Red Rose Wrist Corsage has just officially become a "promised gift" to the Museum of Art and Design in New York, NY. Purchase this bracelet while available. One of a kind musuem quality work.
"Wrist Corsage", Art Deco Vintage black & white graphic on green background; large round #6.1.9
Reverse side: Bloomingdales' lid with butterscotch, pink and white popcorn.
Outside edge: pink, black , green plaid.
Inside edge: crackers on pink, round.
Retail price: $550