Bittersweet Chocolate Pot with Four Chocolate Cups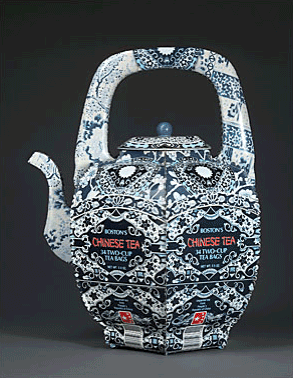 Boston Chinese Tea Teapot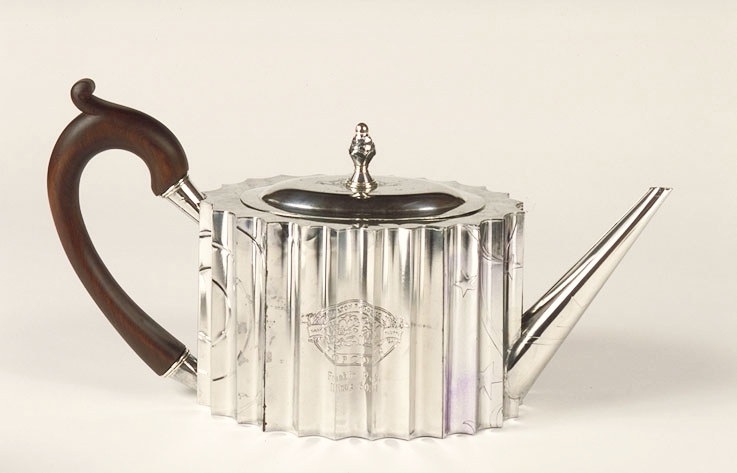 "Silver" Preferred Teapot
Coffee : The Golden Ratio
Caffeinated Arrangement: Black or White
Consuming Good Taste
Celestial Seasoning Teapot and Two Cups
Bittersweet Chocolate Pot with Four Chocolate Cups
Bittersweet Chocolate Pot with four cups are constructed in 2003 from post consumer recycled tin cans. The cups are filled with luscious, foamy, hot chocolate that is a permanent polyester filling (of my own special plastic recipe.) Many different brand names of chocolate serve as inspiration. Most of the tin cans are no longer available. I find them by accident at yard sales and flea markets. Sometimes people mail me tins.Materials: Recycled post consumer tin cans. resin, 10k gold rivets, brass and stainless steel screws.20"H x 15.5"WClick on the image for more information and images.Permanent Collection of the Kamm Teapot Foundation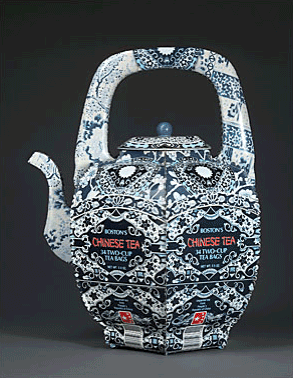 Boston Chinese Tea Teapot
Boston Chinese Tea from 2005 is based on a 17th century Chinese Blue and White teapot shown in a Christie's Collectibles Teapots book as an iconic example of Chinese blue and white porcelain. The historic example was 8" in height.My 21st century version is significantly larger at 15" tall and fabricated primarily from the tin can packaging of Boston Chinese Tea. This "BIG GULP" sized teapot might theoretically hold as much as the advertised 72 cups of tea.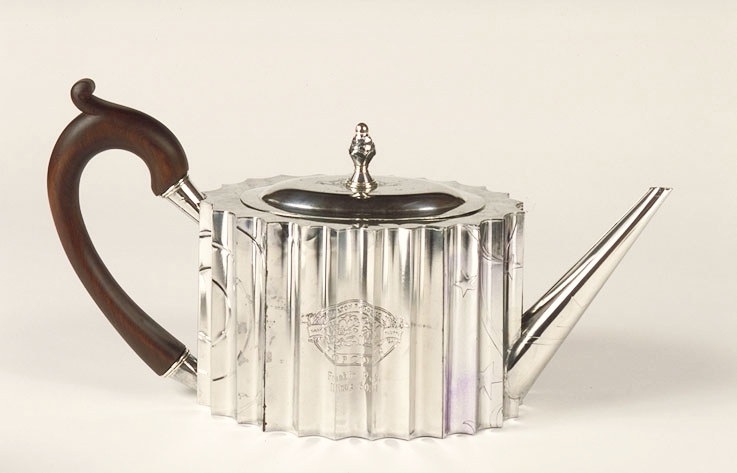 "Silver" Preferred Teapot
Modeled after a Paul Revere teapot, my teapot titled, "Silver" Preferred, is a 21st century counterpart. The aura of a Paul Revere teapot exists because of the value of the metal, the fame of the creator, and the craftsmanship in fabrication. In "Silver" Preferred, the values that made a Revere teapot special are reappraised, reexamined, and reassembled. My teapot does not seek value in its materials (tin cans), but asks us to re-evaluate how an object is valued in our material culture.
Coffee : The Golden Ratio
Coffee: The Golden Ratio coffeepot is based on a historical coffeepot from 1728-9. The cups are permanently stacked on top of one another. The ratio for the height of the coffeepot to the height of the precariously stacked espresso cups is based on the concept of phi (pronounced 'fee'), the Golden Ratio, and a pun on the word "coffee".Would you like milk and sugar with your coffee? What is your perfect ratio?Coffeepot and cups constructed in 2004 from pre-printed steel from recycled tin cans for IILLY coffee. 22"H x 12"W at handle and spout x 6.25"DClick on the image for more informationPermanent Collection of the Kamm Teapot Foundation 
Caffeinated Arrangement: Black or White
My coffee pot and cups are included in the catalog and book titled: The Artful Teapot by Garth Clark.CLICK on the image for more information. Coffee pot and two espresso cups constructed in 2000 from pre-printed recycled Penguin Caffeinated Mint tin containers, aluminum and brass rivets. Cups have sterling silver handles and are filled with Penguin mints.Coffee Pot: 12" height x 12" width spout to handleEspresso Cups: 2 5/8" height x 5.5" widthPrivate Collection 
Consuming Good Taste
One of my early teapots constructed in 1999 from post-consumer recycled tin cans. All the tins were printed with images of famous paintings such as Renoir, and Van Gogh to sell rather average to even below average cookies. Why print famous paintings on tin cans to sell cookies and candy?Art reproductions on tin cans reflect the perceived role of art in our consumer society. Do products using images of art imply that the product tastes good -- or that the consumer has good taste? The teapot stand for this sculpture is modeled after the tiny, fragile teacups imported from China in the first half of the 18th century. It also uses recycled tin cans printed with the pattern for Chinese blue and white porcelain. Teapot and stand constructed from recycled tin cans, aluminum and brass rivets. This teapot is included in the book Teapots: Makers & Collectors by Dona Z. Meilach. 11"H with stand x 11.5"W spout to handlePermanent Collection of the Kamm Teapot Foundation 
Celestial Seasoning Teapot and Two Cups
This Celestial Seasoning Teapot had a small stand and two tea cups © 1999-2000 made from Celestial Seasoning tins.The Celestial Seasoning tins were a promotional item that often came inside their boxes of tea. Larger tin cans were used to sell tea bags as gift items. The Celestial Seasoning tins are really hard to find. The teacups from recycled tin cans were the first two I ever made. It took 75 hours to figure out all the technical solutions to fabricating the cups. After I figured it out, then I made cups for the Caffeinated Arrangement: Black or White and the Consuming Conversation Teacups (also shown on this page.) Teapot materials: recycled tin cans, aluminum and brass rivets, gold-filled stars. (8.25"H on stand x 11.50"W spout to handle) Tea cups: Pre-printed steel from recycled tin cans and Celestial Seasoning tins, sterling silver handles, brass rivets and screws, silver and gold confetti stars. (2.38"H on stand x 5.5"W spout to handle)Private Collection