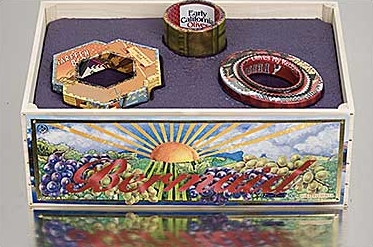 Bermaid, 2007
Fruit crate label
California Bracelets
Artist Statement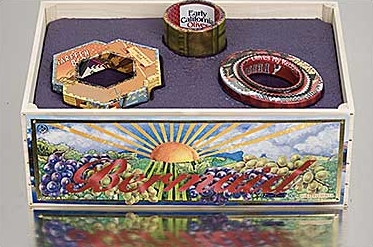 Bermaid, 2007
Three bracelets displayed in a custom made wooden fruit crate. Bracelets and fruit crate label constructed from recycled tin containers, 10k gold rivets, aluminum rivets.Dimensions of fruit crate: 6.5" ht. x 15.5" w. x 10.5"dRetail Price: $7,000For complete set of three bracelets, and fruit crate with label.
Fruit crate label
It is from "The California Collection." These bracelets and the fruit label are part of a new series of work constructed from recycled tin cans, cut and riveted with layers of images and symbolism of California. The reuse of post consumer material reflects California as both the ultimate consumer culture and the leader in the recycling movement and green design. Constructed from recycled tin cans, aluminum rivets, 10k gold rivets. Bermaid writing "floats" above label about 1/4".Dimensions of label: 5.25" ht. x 15"w. x 1/4" d.  
California Bracelets
(sold as a set with wooden fruit crate shown above) "Williams Sonoma" bracelet "Scharffenberger" bracelet "Early California Olives" braceletRetail Price: $7,000For complete set of three bracelets, and fruit crate with label.
Artist Statement
The fruit crate symbolically represents the historic fertility of California's valleys bountiful with fruits and vegetables. Orchards once covered Silicon Valley, but it now blooms with inventions and enterprising ventures. The bracelets symbolize the innovative and entrepreneurial spirit of California (e.g. Scharffenberger and Williams Sonoma). California exports ideas as well as products from its fertile valleys. BERMAID is a play on words and the identity of the artist. First, as a reference to my name – Berman – which is not a very good name for an avowed feminist. So instead, I use "maid", as in a young woman. Second, as a pun to "made", made by hand.